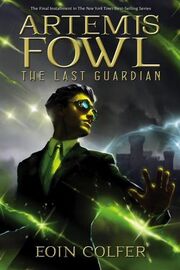 Welcome to the Artemis Fowl Wiki
Edit
This wiki is a tribute to the legacy of Artemis Fowl. Written by Eoin Colfer, this masterpiece tells the life and times of Artemis Fowl, teenage criminal mastermind. Background history, character biographies, events from the series-- everything contained in the books is here for your easy access.
How YOU Can Help
Edit
Do you really think I can capture the entire series (8 books!) on this wiki by MYSELF? Because I can't! Hence, I need people like you, who love Artemis Fowl, to help make this wiki a comprehensive encyclopedia on everything Fowl.
In fact, I've been quite busy with the pesky thing called "real life" (shudder) lately, and probably will be for a while. So, contributions would be great! Just pick a page (the random page tab above is quite convenient) and start filling in things you know!
Thanks in advance!
Do you like this wiki/Do you use this wiki?
Latest activity
Edit